I usually have my camera along with me wherever I go. The odd time I've forgotten it at home, is when I come across something so spectacularly fantastic that I kick myself for NOT having it with me.
Sometimes it's right outside my front door which is even better. I can usually have my camera whipped out of its case, the card cleared, and the settings checked in mere seconds. This chicken is a perfect example. The neighbour has a bunch of 'em that sometimes wander over into our yard. This photo is the little red hen heading back home.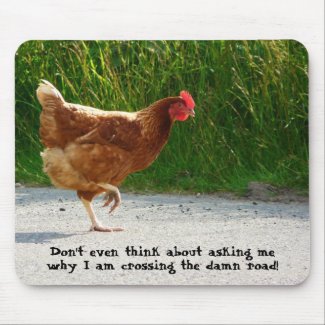 Why did the Chicken Cross the Road?
by
CountryCorner
Make your own
custom mousemats
on zazzle
The text can be changed, I just thought it was funny. Others might not share my sense of humor ;p
A week or two ago I went to a duck pond with Big Chitlin and tried to capture the waterfowl there. I did get a couple good ones, but the light was harsh and the water glared so while the walk was nice, it was a waste as far as photos go. It was a nice break from paying bills and running errands though, and I was happy to snap photos even if I didn't end up with many good ones.
I took another look at those photos this morning and used another one which I figured I'd show you.
I did make a couple with sayings ("Come here often?" and "You so fine") but I'm drawing a blank when it comes to turtle sayings! Better that you come up with your own, I figure.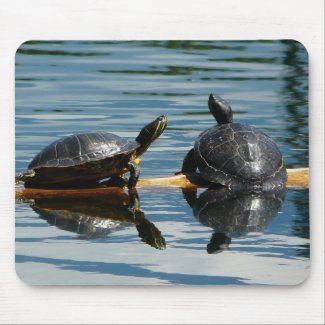 Two Turtles at the Turtle Bar
by
CountryCorner
Make a
customized mouse pad
on zazzle